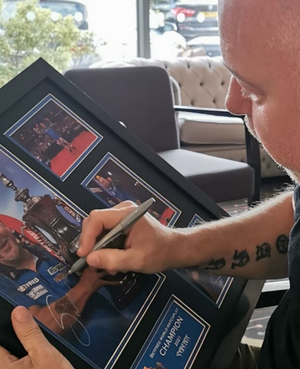 Add on Signature package, please read and follow instructions in description before ordering.
When purchasing a item, you can purchase this signature option to add to it.
PLEASE DO NOT ORDER THIS AS A STAND ALONE ITEM. 
All Signed Products must have a NAME signed To, on them.. so please add Name (only) and state front or back of shirts to be signed, to the Notes section at checkout, after adding this signature package to your order.
Only name and signature will be added to back/front of new style shirts no messages as new shirts have limited space on them. 
The original style shirts, tye dye t-shirt and white t-shirts can have message added. 
Please note that order will take longer to despatch as it depends when Peter is home to sign them.
It takes time for delivery to Peter, then back to delivery department, to then be posted to customers so please allow longer postal times for this service. This is why there is a extra charge for this service.
Thanks